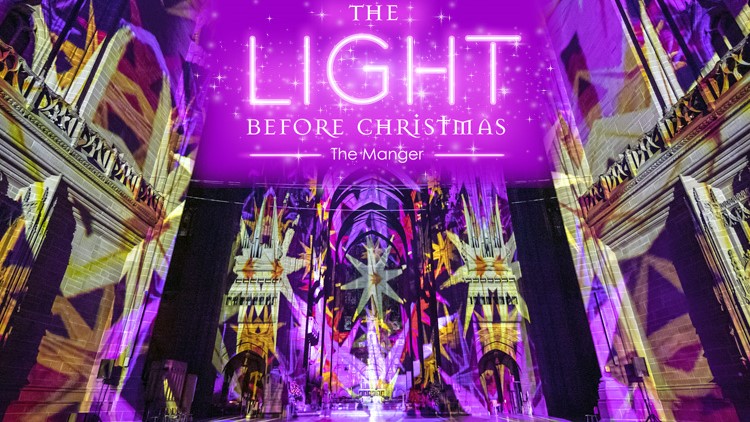 The Light Before Christmas
After the huge success of last year's event, Luxmuralis are returning with a new Son et Lumiere to Liverpool Cathedral for Christmas 2023. Enjoy the most wonderful time of year as the magnificent Gothic interior of the iconic building becomes a canvas for a sequence of dazzling light and sound artworks.

Last year's sell out event wowed audiences and became a "must visit" Christmas event. This year, Peter Walker is returning with his award winning artistic collaboration Luxmuralis performing "Light Before Christmas: The Manger", the second of The Light Before Christmas series.

This beautiful, immersive experience will take visitors on an incredible journey through the Nativity story celebrating the true magic of Christmas. Festive food will be available to purchase from the Welsford Bistro throughout the event.

1st December to 8th December
4.30 – 8.30pm everyday except Monday/Tuesday/Wednesday when it finishes at 7.30pm
Please call 0344 8000 410 Mon-Fri 09:00-17:00 or email HERE for more information. Please email HERE for any queries related to the Cathedral.
Reviews of last year's show…
"Stunning 'Light Before Christmas' display is a must see" - Liverpool Echo
"Spectacular" - Explore Liverpool
"Dazzling" - The Guide

And from TripAdvisor….
"PLEASE don't miss a fabulous event… an amazing show of light and sound"
"A lovely experience…awe inspiring, lighting up the whole cathedral"
"Angels guide you through a magical display of twinkling lights, mesmerising projections and
beautiful music"

Sessions start from 4:30 pm and last for around 40 minutes with tickets costing £9.90 for adults and £7.70 for children aged from 3 to 16. Entry for children under 3 is free when accompanied by an adult but you must book a ticket. Family tickets (2 adults and 3 children) are £28.60 . This year there will also be two sensory shows, where sound will be reduced and each show lasts just 15 minutes.

Accessibility
The entrance to the show is from the Sir Giles Gilbert Scott Suite doors on the car park side of the Cathedral and is at ground floor level. There are lifts to take you to the Cathedral's main floor from the Sir Giles Gilbert Scott Suite.

The majority of the show route is on one level on the main floor of the Cathedral. Staff will be on hand to help anyone with accessibility support needs.

Accessible toilets are next to the lift on the main Cathedral floor.

What is a Son-et-Lumiere?
From the French which literally translated means sound and light, a Son-et-Lumiere is a show of multicoloured lights of changing intensity directed usually against the outside of a historic building or ruin. The changes of light are synchronised with a soundtrack (relayed through loudspeakers) carrying music and the dramatised story of the site. Usually, no live participants appear. 

Who are Luxmuralis?
Sculptor Peter Walker and composer David Harper make up the artistic collaboration Luxmuralis. The team produces large-scale light and sound shows, many of which are known as a Son-et-Lumiere. Previously Luxmuralis has produced Angel Wings and Space, The Universe and Everything for Liverpool Cathedral.

 
Various Prices
(incl. administration fee) plus no fulfilment fee per order.
01/12/2023, 16:30 - 08/12/2023, 20:30
Liverpool Cathedral