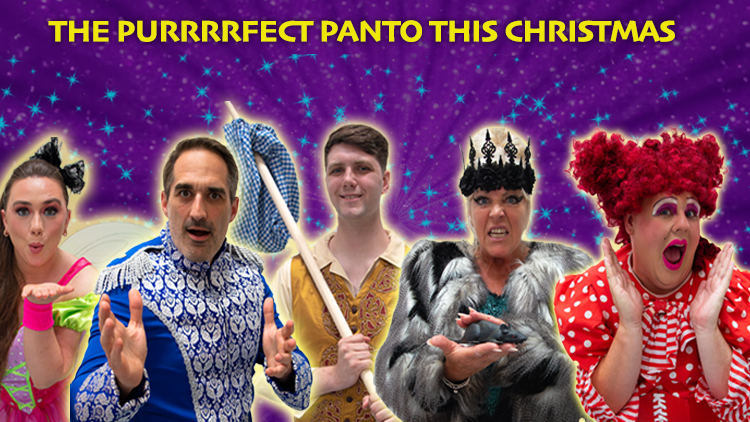 Dick Whittington
Just Entertainment return to The Hope Street Theatre this Christmas to bring you the purrrrrrfect panto for all your family. DICK WHITTINGTON will be full of sparkle, excitement and fun. 

Our hero's incredible escapades take him onto the high seas of the River Mersey, into battle with the evil Queen Rat and see him fall head over heels in love with his boss' daughter Alice. All the while the magical Fairy from Across the Mersey are whispering his destiny – to become Mayor of Liverpool. 

The show reunites Hope Street's favourite panto dame John Garfield-Roberts who'll be serving us some comedy chaos as Sarah the Cook, Lesley Butler as the ruthless and revolting Queen Rat and Phil Perez as fantastically funny Fitzwarren.

Packed with dazzling dance, singing and lots of action from a sensational local cast alongside an ensemble from Performers Theatre school – we promise to have you buzzing from a fantastic, festive show this Christmas.

BSL show is 23rd December at 6pm. There will be no captions but the show is signed by a BSL interpreter.

The Black Friday Offer applies to the below shows
14 Dec 18:00    |    22 Dec 13:00    |    02 Jan 13:00
15 Dec 13:00    |    23 Dec 18:00    |    02 Jan 18:00
16 Dec 18:00    |    24 Dec 10:00    |    03 Jan 13:00
17 Dec 13:00    |    26 Dec 18:00    |    03 Jan 18:00
17 Dec 18:00    |    27 Dec 18:00    |    04 Jan 13:00
20 Dec 13:00    |    28 Dec 18:00    |    04 Jan 18:00
20 Dec 18:00    |    29 Dec 18:00
21 Dec 13:00    |    30 Dec 18:00
21 Dec 18:00    |    31 Dec 11:00

 

GROUP BOOKINGS

 
Various Prices
Incl. Administration Fee and Theatre Levy
14 December 2023 - 04 January 2024
The Hope Street Theatre