ACCESSIBILITY 
Ticket Quarter Accessibility

Our goal is to ensure our customers' accessibility needs are met when booking through Ticket Quarter. We aim to ensure every customer can enjoy performances at our venues irrespective of health conditions or disability. Our compassionate Customer Service team will be able to assign you the perfect seat to meet your access requirements subject to availability.
The Access Card Scheme.
The M&S Bank Arena has recently partnered with Nimbus Disability and The Access Card to ensure customers' needs are met at events. Nimbus is one of the country's leading providers of disability-related advice and support to professional organisations and is recognised as a leading authority on accessible ticketing in the UK. 

 


To ensure the right tickets are sold to the right people, we will require all access bookers for events at ACC Liverpool to provide us with a Nimbus registration number to qualify for any accessible tickets or discounts available at the time of booking. Registering is free to Ticket Quarter customers with an option to upgrade for £15 to have access to all participating venues.
To check if the venue you are attending will be accepting The Access card, please call 0344 335 0437:
For more information please visit: 
https://www.accesscard.org.uk/faqs/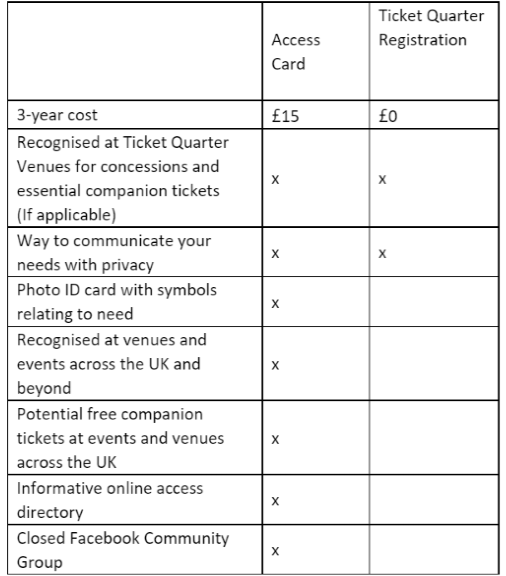 To place bookings please call:
0344 335 0437