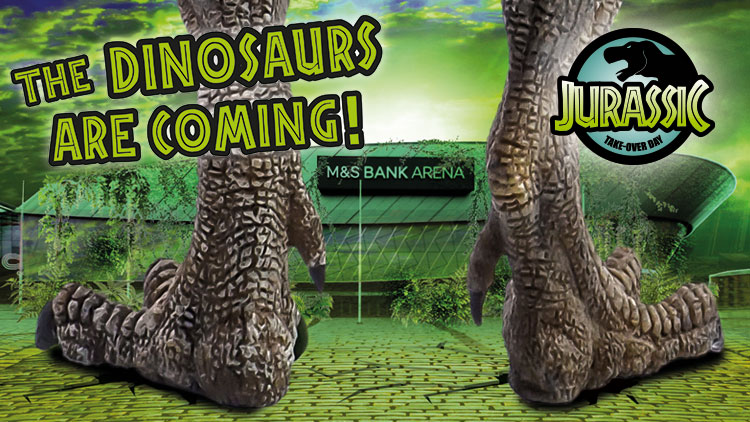 Jurassic Take-Over Day
The Dinosaurs Are Coming!
 


For ONE day only come and experience a unique dinosaur adventure as we host the UK's only interactive walkthrough and theatre experience!


 


Come and visit state-of-the-art animatronic life-like dinosaurs in this brand new, immersive and interactive experience for all audiences. This is an unmissable opportunity to talk to a Triceratops, look up to a Brontosaurus, roar with a T-Rex, scream with a Spinosaurus and run from a Raptor! 


 


Our theatre performance is 60-minutes long and is the UK's only theatre and walkthrough experience, making it the most interactive dinosaur adventure in the UK! Will you stay seated and watch from afar or will you be ducking and diving alongside our dinosaurs? You'll have the choice for either, but we do encourage attendees to get as involved as possible as audience participation is a must, and this unique experience has been created especially to accommodate for EVERY type of individual: from the bum-wigglers who can't sit still, to the patient ones who like to watch every moment – we cover a Jurassic experience for everyone!


 


You'll have the opportunity to train as a Ranger (just in case the dinosaurs break loose!), learn about the baby dinosaurs in the Hatchery, take photo opportunities in our Gyrosphere, take selfies with our dinosaur props, watch our specially produced dinosaur show, wander through our unique Jurassic Park tribute area, learn about dinosaur skeletons in our paleontology area, chill in our story time area for any little ones who need some quiet time and so much more with this unique and brand new Jurassic experience.


 


And if that isn't enough we'll also be introducing our BRAND NEW DINOSAUR and the only one of its kind in the UK! (For those who don't like getting wet we advise bringing waterproof clothing!).


 


There are three 90-minute sessions available to book across the day. These sessions include a 60-minute interactive theatre performance and a 30-minute stroll around our Jurassic walkthrough experience where there will be plenty of educational areas, photo opportunities and the chance to meet our baby dinosaurs! Experience times include: 11:00am, 1:30pm and 4pm and it's recommended you arrive 20 minutes prior to your experience start time. 
Tickets are limited to ensure the very best customer experience, which gives everyone attending the opportunity to meet and greet both our large and small dinosaurs making everyone a VIP for the day!
The Jurassic Take-Over Day makes for an excellent Christmas gift, giving attendees something roarsome to look forward to in 2024. As we feel it would make such a wonderful gift we've created some special gift certificates we can send out for you to wrap and gift on Christmas Day. 

You can purchase these in addition to your tickets and they each come in special envelopes and will be posted out - your entrance tickets will be sent to you electronically. 
£21.98
(incl. administration fee) plus no fulfilment fee per order.
10/02/2024, 11:00 - 10/02/2024, 16:00